If anyone believed that with the advent of the new year, the worldwide situation will change radically, was wrong. The year 2021 was still majorly marked by the COVID-19 pandemic. Even though in the first months, European citizens obtained a possibility to vaccinate, the time has shown that we have not won this battle yet. To this day, we are still waging a really hard struggle, with new waves on the horizon. On the other hand this year, we kind of get settled with the state of affairs, and the fragile, European economy slowly starts to recover.
For the digital marketing industry, this year abounded in new trends, opportunities but also challenges and struggles. We definitely could experience the evolvement of visual and voice search, mobile and social commerce, the new Google algorithm, and many, many more. It is worth mention, that brands identifications also have gone through some changes and become more purpose-driven and transparent. On the other hand, new privacy laws and the arrival of the cookieless era have caused a lot of stir in the marketing world. We all started to embrace those changes. Here is our yearly summary.
In Dall, we don't like to waste time, that is why we decided to support our clients and in the springtime, we released Dall White Papers on the topic of the Cookieless era (you can still download our e-book for free on our website). The idea came from Blueranks' polish version of the report, but quickly other Dalls' members: Traffic Builders, Sleeping Giant Media, Rich Clicks joined forces. It resulted in a comprehensive guide, which not only contains pieces of advice for marketers and brands but also what is unique, it addresses the topic from a different European markets perspective.
After a whole year of online meetups, we managed to get together in Copenhagen! Although still not every member was able to join, we were happy to meet with a majority of Dall agencies. Since our communication daily is held online, we do appreciate meetings in real life! In Denmark, we were hosted by Web2Media. Loads of interesting discussions, knowledge and experience sharing, and of course, great integration afterward. We returned homes with lots of ideas and plans for the future.
In 2021 our digital family got bigger, we welcomed Seek and Hit. A top Croatian agency with impressive projects and achievements and great people on board. That way, we managed to extend our online presence and service in the new Balkans area.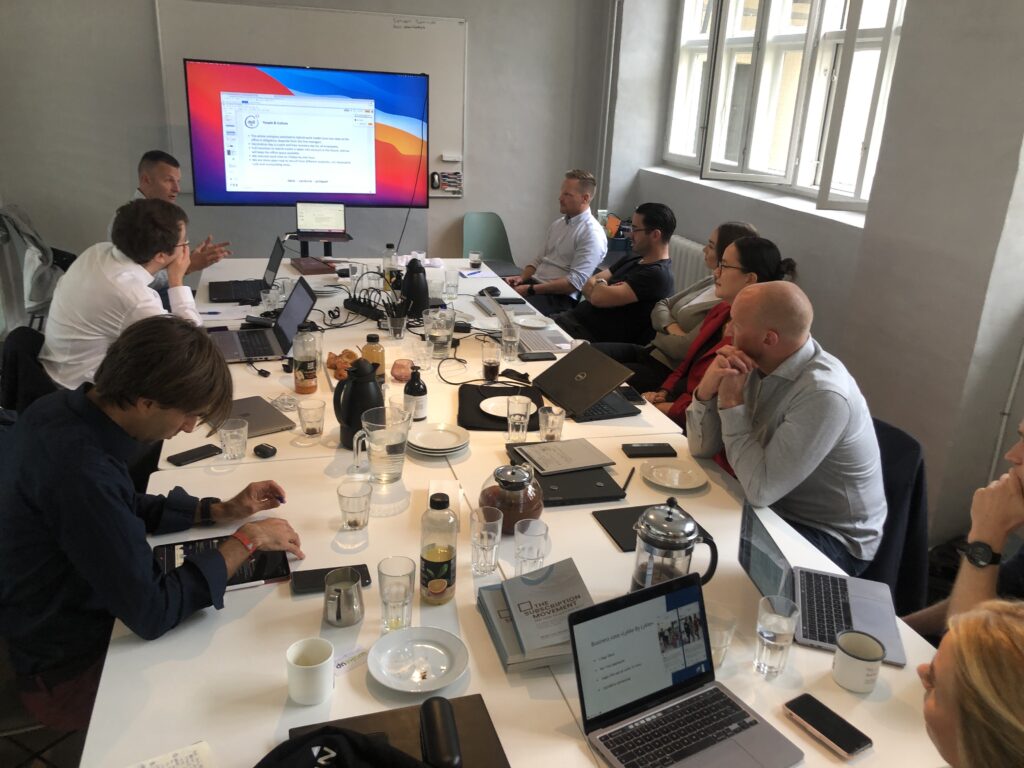 A lot has happened in our Dall's agencies these past months. For our German friends, it was a true record year when it comes to awards! What is more, the Peak Ace client's portfolio expanded to new partners such as Leatherman, Matterport, and Getac. Last but not least, Peak Acers opened their second office in Leipzig! Traffic Builders have also scooped a lot of awards this year, among which are the Dutch Search Awards for the Best Large Agency!
2021 was very busy and fruitful for our member Web2Media. Allan Jørgensen, founder at Web2Media says:

"On our path to use and introduce REAN in the Nordics we have gained even more foothold and market share on this boosted via AVIOU and our developed "Inspirational Commerce" platform, and framework. We expect this to be adopted very much in especially Denmark in 2022. Combined with our analytical team and automation approach in traffic, we are seeing extremely good results for our clients beating the market doubly."
Despite the still uncertain situation and economic fragility, the majority of our partner agencies experienced significant growth. So it was for our new member – Seek & Hit, which recorded a 60% increase in income in comparison to 2019. A lot of this is thanks to new, huge clients like L'Oreal brands" Kiehl's and Lancome operating in Croatian, Serbian, Slovenian, and Bulgarian markets!
In Bluerank, among many interesting clients and projects, one, in particular, brought huge success and numerous awards. The case with Orange- one of the biggest telecommunications providers in Poland was built based on the See-Think-Do-Care model and avail of Re-Write – an original in-house tool from Bluerank. As a result, the company recorded a major increase in website organic visibility and sessions, and most importantly revenue surge.
Satisfying growth was also a case for our partners from Brussels. Agency Universem noted 20% global growth. A lot of new projects happened together with other Dall agencies on their international accounts, which makes us happy even more! At the same time, the winning strike continues for our partner in Scotland, Attacat agency. Some of their new clients this year have been The Origin Fitness and The Royal Mint, which follow more and more HubSpot implementations and integrations.
This year all agencies set a great store on recruitment, talent management of their employees. Sleeping Giants hired over 30 new members, plus rapidly expanding their specialisms. Result? Accolades like The Investors in People Awards! On top of that, the agency won some giant tenders for well-known brands across the UK which will bring in the need for even more growth in 2022 – with even more exciting plans to come.
To meet employees' expectations and needs, Rich Clicks became a fully-fledged remote company, which can offer total freedom for the team to choose where to work. This big change has helped the whole agency to refine tools, instruments, and teamwork. Moreover, the agency created a podcast that has allowed them to open an even wider window on their world and work, as well as to collaborate with insiders and influencers in the digital world. To have exceeded one thousand listeners in just over six months was an important milestone for the work they have put into it.
2021 is almost over, we are starting a new year with ambitious goals and plans for our alliance, that concentrate on sharing knowledge and expertise. As well as providing top-quality for our clients who want to expand abroad.