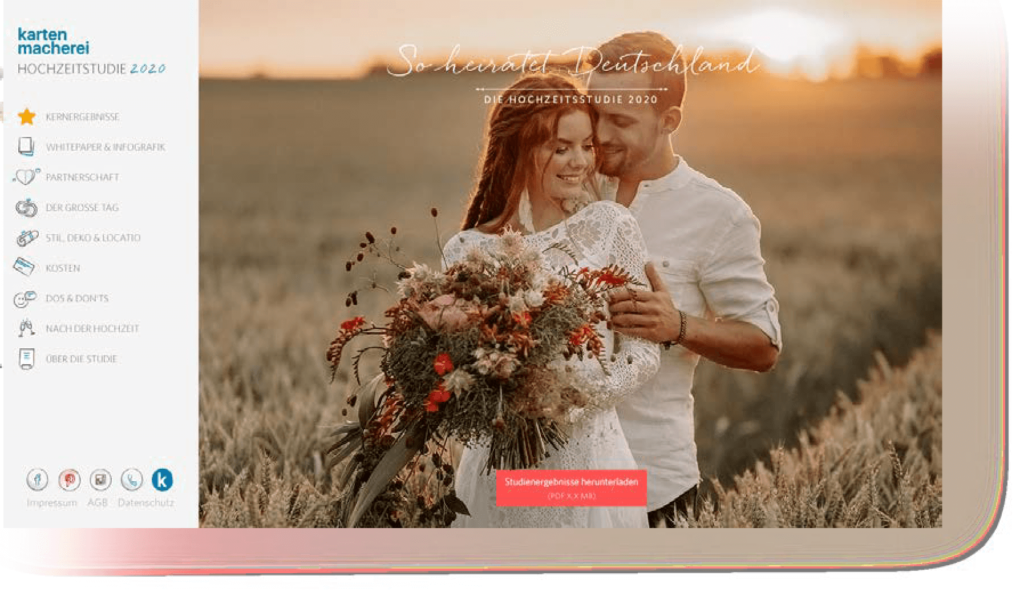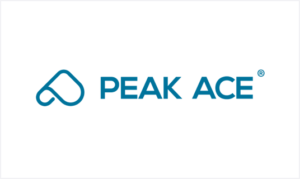 An interactive study on German wedding habits
About the project
Kartenmacherei
With our campaign "How data tells wedding stories", for online greetings card shop kartenmacherei, we rocked organic search by combining data-driven content and emotional storytelling. In a 30-question survey, we asked more than 20,000 kartenmacherei customers about their weddings, publishing the
results on an interactive landing page with over 150 embeddable diagrams. Five infographics with different topics (e.g. costs, trends, honeymoon) were tailored for different target media (e.g. financial, lifestyle, travel magazines).
This content strategy had broad appeal, benefiting kartenmacherei customers and media outlets: couples planning weddings could use the data as a source of inspiration, while media outlets could use it as a basis for articles about wedding culture in Germany. This meant we could push kartenmacherei ahead of its competition in keyword rankings, to #1 in its most competitive product category.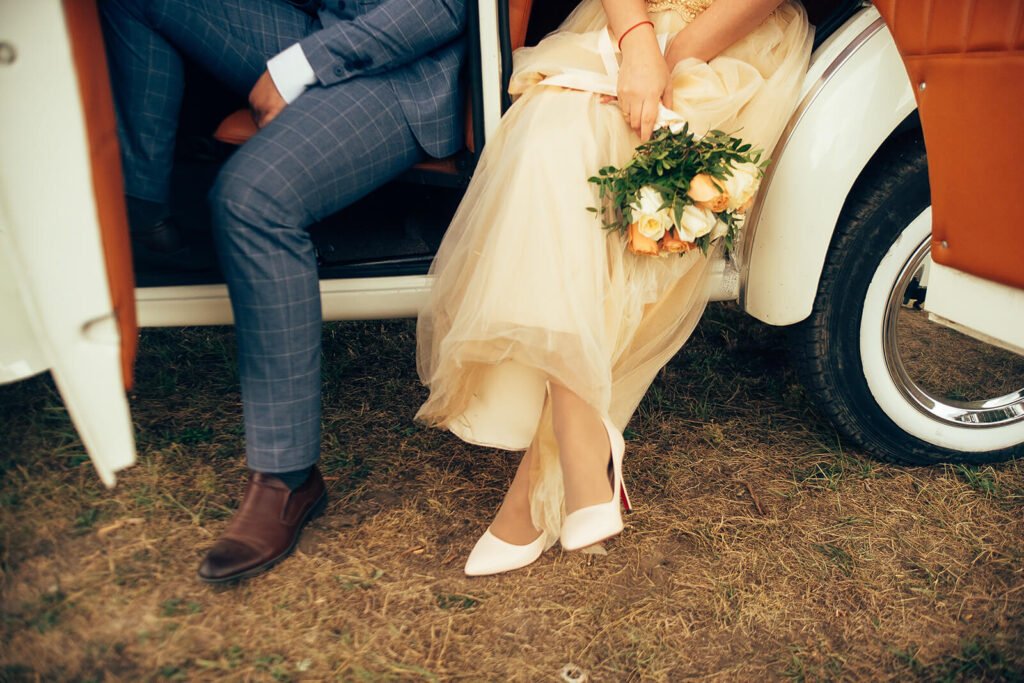 Objectives
Position number one (DE) for all three major keywords with the highest monthly search volume.
Increase brand awareness and strengthen kartenmacherei's status as a wedding expert
Increase referral and social traffic
Strategy
Using customer insights to generate new, unique content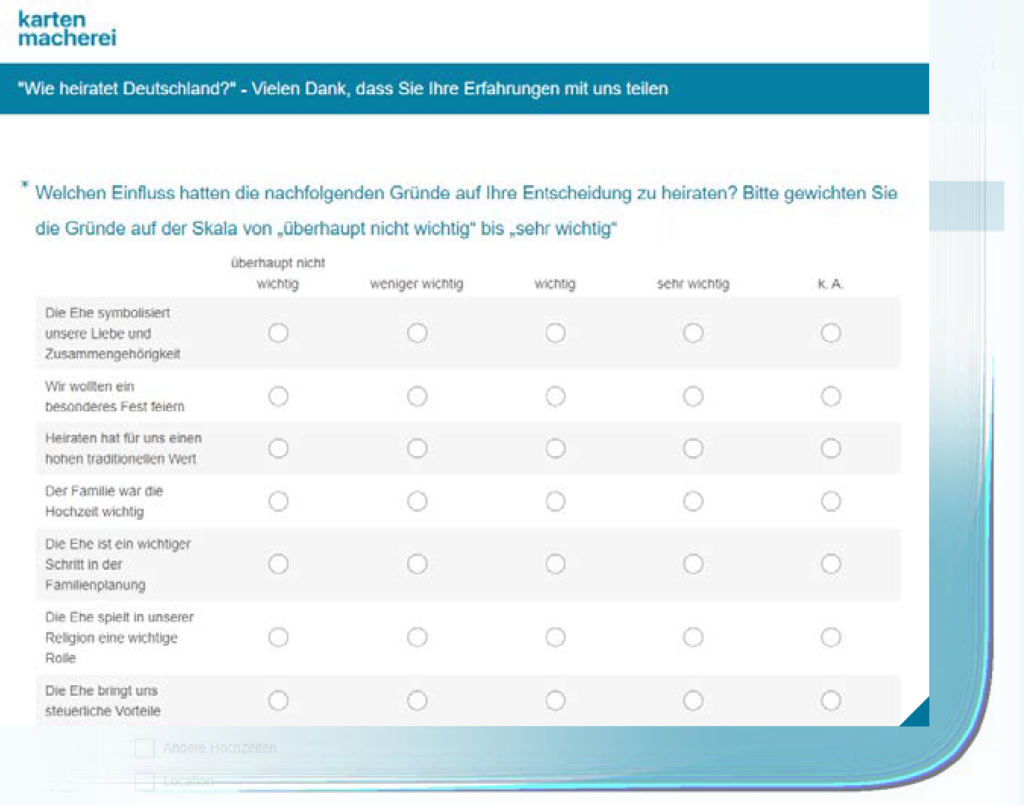 Blog posts
High-quality, inspiring onpage wedding content appealed to buyers' personae and media outlets, pushing kartenmacherei to position #1 for the most relevant product category with off-page measures.
As pre-outreach, we contacted major lifestyle magazines to find out what data they could use for stories. We answered their call, developing a new survey to provide exactly the data they needed (e.g. wedding budgets, online dating, etc.) with a high potential reach for their readers.
Using kartenmacherei's internal database, the survey was sent to 20,000+ customers.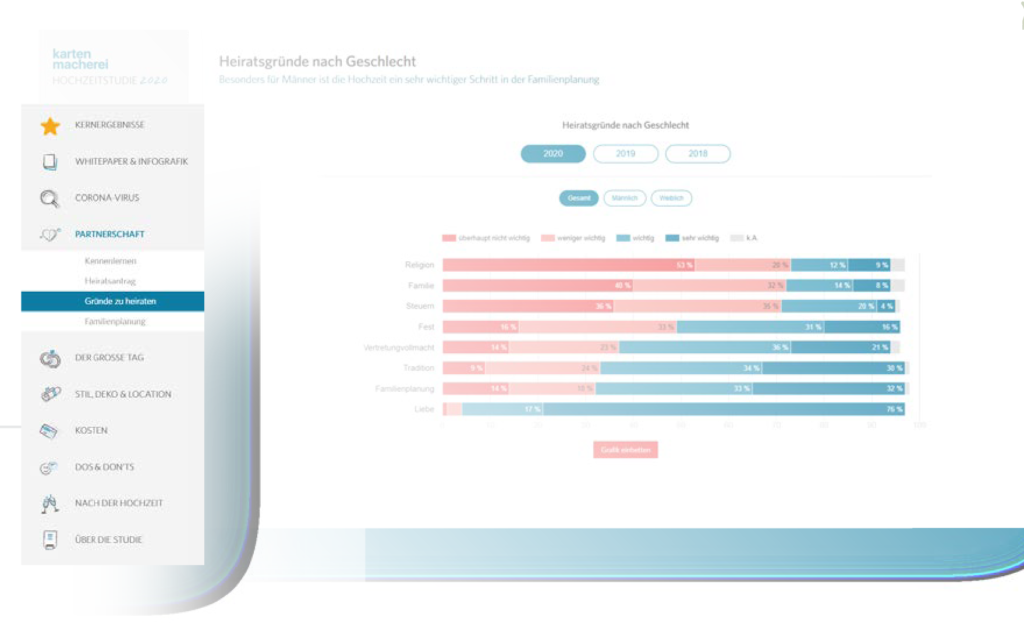 With well-structured, easy-to-use navigation, we collated years of data into shareable formats. A downloadable whitepaper meant that journalists had everything
they needed to report on the study, with full transparency.
It's one thing to collect data and analyse it for patterns, but another to turn it into a narrative everyone can follow. Concrete data about why, how and to whom Germany is getting married tells us a story about ourselves, about a topic that is so coded in appearance, emotion and expectation.

Results
Outstanding success: backlinks and buzz
Our data, featured in Germany's biggest media outlets
#1
All keywords reached #1 in their rankings
#2
95 referring domains with average Trust Flow of 25
#3
168% YoY organic traffic increase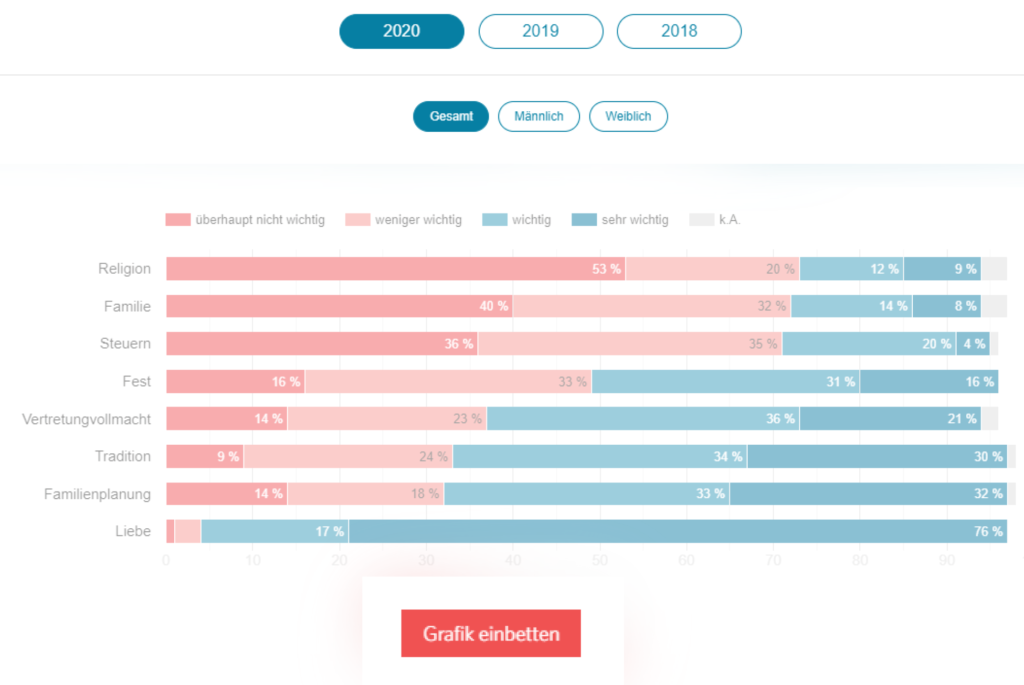 150+ interactive diagrams for user interaction led to an average time on site of 04:30 min. Embed codes allowed target media to integrate charts easily while backlinking to kartenmacherei.
Having first run the survey in 2017, we could turn the results into
evergreen content. Our interactive diagrams allowed users to compare
results across multiple years, across multiple regions, across multiple
parameters. For media outlets, the data never goes out of use as it is
always updated and rooted in the context of previous survey results.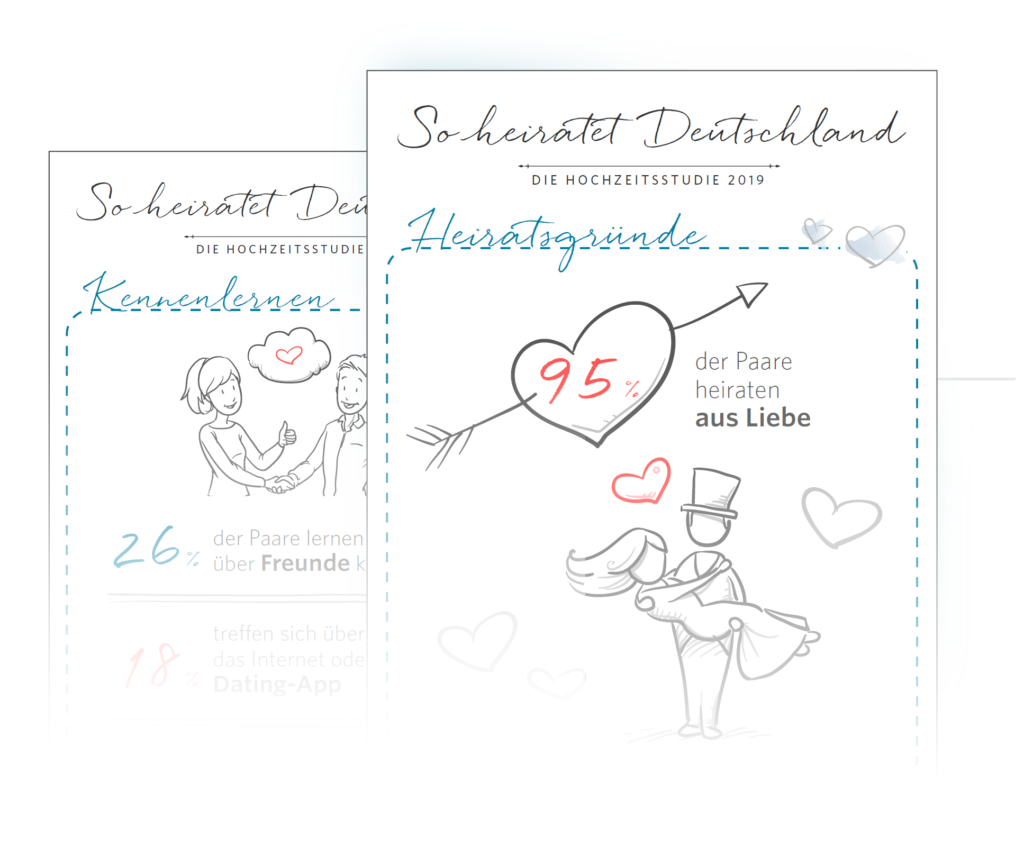 Playful infographics in varied colours
and formats and easily modifiable for
sharing to different social platforms
More cases like this: